Dear Friends of Farms and Food,
This month, the stark difference between the practices of industrial farming and the transparency of the sustainable farming movement was never more clear. In North Carolina, CFSA farmer members won a victory when Governor McCrory vetoed a bill that hid the reality of factory farming by criminalizing the actions of whistleblowers reporting illegal practices. The fight isn't over yet!  We need NC voices to urge representative not to override the Governor's veto.  All the details are in the Take Action section of this month's eNews.
Stressing the importance of transparency in our food system, in South Carolina, we have been planning the 9th annual Upstate Farm Tour, happening June 6 & 7. Through this and our other farm tours, thousands of Carolinians have seen exactly how CFSA farmers humanely raise animals to bring food to our plates. We thank these farmers who have opened up their farm gates to help us connect the dots between the field and our meals and believe there is no better way to get to know the farmers who grow your food than to visit them at their farms! With 23 incredible farms, the Upstate Farm Tour is an experience that should not be missed.
We'll see you there,
Elizabeth Read, Communications and Development Director
In this edition: 
CFSA NEWS:
Advocating to Put Better Meals on School Children's Plates​
An Evening to Remember: When Scott Avett, Joe Kwon and Bob Crawford of the Avett Brothers and Vivian Howard of Chef and the Farmer come together to support Lomax Farm beautiful things happen
Meet the Farmers in Training at Lomax Farm
CFSA Hosts Organic Legislative Breakfast
TAKE ACTION
Governor Vetoes Anti-Whistleblower Bill. But, the Fight Isn't Over Yet! 
CFSA RESOURCES
EXPERT TIP
UPCOMING EVENTS
THIS WEEKEND!
June 6&7 from 1-6 PM
Or, want to volunteer and snag a free CFSA t-shirt and a free ticket?! Visit our website to sign up! 
Good Agricultural Practices Workshop: Wake County
Navigating the USDA GAP Audit
Tuesday, June 16, 2015
9:00 am – 4:00 pm
CFSA NEWS:
Advocating to Put Better Meals on School Children's Plates
​by Jared Cates, Community Mobilizer​
The Pilson family farm, known as CV Pilson Farm, has been in Moore County, North Carolina for five generations. Twenty-three year old Cliff Pilson followed his father, grandfather, great-grandfather and great-great grandfather into farming. Historically a sweet potato and tobacco farm, Cliff is currently working to find new customers for the farm by diversifying his crops and fully transitioning out of tobacco. He takes great pride in selling his produce to public schools in his area and recently traveled to Washington DC to speak with NC Congress people to advocate for the Farm to School Act of 2015.
Farm to school is a common sense approach to child nutrition that empowers children and their families to make informed food choices while strengthening the local economy and contributing to vibrant communities.  The USDA supports these types of efforts through their Farm to School Grant Program. This program has supported local, fresh food access in school systems in across NC and SC.
Read more about CV Pilson Farm and Cliff's trip to DC on the Sweet Potato Blog and read more about the Farm to School Act of 2015.
An Evening to Remember
When Scott Avett, Joe Kwon and Bob Crawford of the Avett Brothers and Vivian Howard of Chef and the Farmer come together to support Lomax Farm beautiful things happen
by Elizabeth Read, Communications and Development Director
When CFSA stepped up and took over the administration of the Elma C. Lomax Incubator Farm in September of 2014, how to financially support the operations of the farm was at the top of the priorities list. Through many funding sources, CFSA has worked hard to put the Cabarrus County training farm on sound footing.
One of the awards in our successful crowd-funding campaign to benefit the farm was a seat at a dinner with Scott Avett. As details emerged about the dinner, it was clear that this was going to be an evening to remember. Through the assistance of The Avett Brothers cellist, Joe Kwon, award-winning chef Vivian Howard signed on to be the chef for the dinner. Vivian is the chef at the acclaimed Kinston restaurant, Chef & the Farmer, and is the star of the Emmy-winning PBS television series "A Chef's Life."
Read about the fabulous meal and how you can support Lomax Farm
Meet the Farmers in Training at Lomax Farm
Farmers in Training (F.I.T.s) at the Lomax Incubator Farm receive classroom instruction on the business of farming in Cabarrus County, as well as hands–on experience on the farm. Participants in the program develop and manage their own farm-based business while receiving guidance from staff and seasoned farmers.
Farmers-in-training have a 3 to 5 year participation period at the farm and Lomax Farm staff aim to help the new farmers find land of their own.
So, you want to be a F.I.T. (Farmer in Training) at Lomax Farm?
Learn more about the F.I.T. program at Lomax Farm and how to apply!
Heads up: Our next application deadline is July 1st.  You'll want to get started on the pre-reqs now!
CFSA Hosts Organic Legislative Breakfast
by Rochelle Sparko, Policy Director
About 60 legislators, staff and administrative agency employees turned out on May 27 for a delicious, organic breakfast at the North Carolina General Assembly. For the organic breakfast, CFSA takes over procurement for the cafeteria at the NCGA one morning a year, sourcing the food from CFSA member farms and food businesses.
While attendees dined on farm-fresh eggs, biscuits made of wheat milled in NC from locally grown grain, pasture-raised sausage and fresh strawberries and blueberries, CFSA Executive Director Roland McReynolds and CFSA member-farmer Russ Vollmer spoke about the opportunities and barriers facing organic production in the state.
Roland regaled the audience with information about the strength of the organic sector in North Carolina, noting that organic food sales are growing faster than overall food sales and have been for years. Roland told guests,"organic food sales jumped to $36 billion in 2014, an 11% increase over 2013."
Organic agriculture provides meaningful economic returns for certified farms and attracts beginning farmers nationally. Said Roland, "Net cash income for farms with organic sales was 187% above the average for all farms. Nationally, 71% of organic farm operators were full time on the farm, compared to just 48% for all farms, and were 143% more likely to earn at least three-fourths of their household income from the farm than farm operators overall.  And, organic agriculture is attracting the next generation of farmers—35% of organic farm operators are under 35, where just 24% of the overall farm population falls into this age bracket."
These compelling national data are reflected in North Carolina, but not to the extent that is seen in, for instance, California. Roland called on attendees to keep in mind that California land grant institutions have engaged in organic research for forty years; North Carolina will need to make similar investments in order to fill the gap in production resulting from the California drought. He explained, "more research funding is needed to help find solutions for organic farming challenges and seize a bigger share of the nation's organic pie—every dollar in ag. research funding returns $20 dollars in economic benefits to our farmers, rural communities, and businesses."
Russ Vollmer, the owner and operator of Vollmer Farm in Bunn, NC and a long-time CFSA member then took the podium. Vollmer Farm is a 5th generation working family farm. Russ focuses on producing wholesome, organic produce as well as agritourism activities that provide a genuine "real farm" experience. Russ explained to guests that farming is an on-going battle against disease and pests. He pointed out that publicly funded research leads to organic methods to combat pests and disease and that this research is necessary for organic growers to be successful. "We need [your] involvement in promoting research into organic production of North Carolina…that's what consumers are looking for," Russ urged legislators. Russ also pointed out that there is a limit to what consumers will spend, and public research can help make organic produce affordable. "You can only get $3 for cabbage–I don't care if it's organic or if it's gone to heaven and come back– and so the systems have to be in place … to give our farmers some help."
Guests expressed appreciation at the end of the event for CFSA's work, Russ' farm and the delicious breakfast. We are already looking forward to next year's event!
A special thank you to the farmers and food businesses who supplied ingredients for the breakfast:
Farmer Foodshare
Bee Blessed Farm
Eastern Carolina
Organics (ECO)
Triple J Farm
Southern Belle
Cottle Organics
Uncle Henry's Organics
M&M Plant Farms
Faucette's Farms
Durham Co-Op
Organic Valley
Hickory Nut Gap Farms
Firsthand Foods
Okfuskee Farm
Box Turtle Bakery
Cohen Farm
Come Work with Us!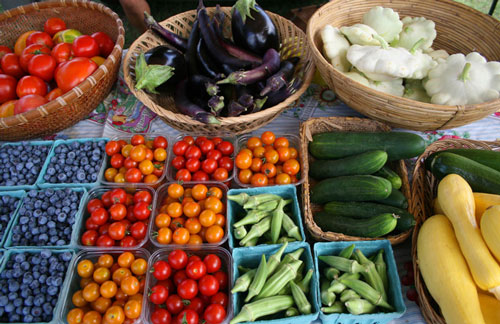 CFSA is hiring a Local Produce Safety Coordinator. The Local Produce Safety Coordinator is a full time, salaried position responsible for delivering an innovative training program to operators of diversified farms seeking food safety certification, specifically the USDA GAPs and Harmonized GAP Audits.  S/he will be responsible for providing direct consultation to growers, assisting with the process of coordinating, implementing, and self-auditing on-farm food safety programs, and making recommendations for further improvements to mitigate hazards in growing, harvesting and handling of products.  Training and consultation will utilize the CFSA guidance manual, Good Agricultural Practices for Small Diversified Farms, and will enable diversified farms to enter new and competitive wholesale and institutional markets and maintain existing markets that may impose more stringent food safety certification requirements in the future. The ideal candidate will have the ability to conduct internal and third party mock food safety audits with various food safety schemes and may be required to attend USDA GAP internal auditor training and/or other trainings depending on previous experience.  S/he will also need to maintain knowledge of local wholesale buyer's food safety requirements in order to provide member/growers with appropriate guidance when entering new markets.
TAKE ACTION
Governor Vetoes Anti-Whistleblower Bill.  But, the Fight Isn't Over Yet!
by Rochelle Sparko, Policy Director
Last week, NC Governor McCrory vetoed House Bill 405, a bill strongly opposed by CFSA. This bill would have allowed employers to sue employees for taking photos, video or documents at their place of employment, even if those photos documented illegal or unethical activity. The veto is a victory for a transparent and safe food system in North Carolina. Though not limited to agriculture, this bill would make it unlikely that anyone would expose animal abuse or workers rights violations on farms that cut corners in NC, making it harder for farmers doing the right thing to compete.
What's next? The bill heads back to the legislature where the House of Representatives will vote on whether to override the Governor's veto. That's right: this bill could still become the law in North Carolina if 3/5ths of the House and 3/5ths of the Senate vote in favor of the bill to override the veto.
What can you do?
Call your representative and ask him or her to vote to sustain the Governor's veto. A number of Representatives who voted for this bill will probably change their minds if they hear from you that you'd like them to sustain the Governor's veto! Visit our issue page on HB 405 for a list of Representatives who voted for House Bill 405 (this list is VERY surprising, so visit even if you think your Representative voted against it) and a script to use when you call.
Learn more about CFSA member-farmers who went the extra mile and helped secure the Governor's veto on our blog
CFSA RESOURCES
Top Resources for Growers
CFSA's For Growers Toolbox is chock-full of helpful resources to make your farm more profitable, help you transition to certified organic, break into new markets with Good Agricultural Practices (GAPs) certification, find organic seeds and other inputs and more.
Our top viewed resources so far this year:
1) Record-keeping Software and Templates
2) Organic Transition Handbook
Have you found one of our resources especially helpful?  Let us know!  We'd love to hear from you.
EXPERT TIP
Organic Pest Management
by Karen McSwain, Farm Services Director
They're here….. Anyone remember that famous line from the super natural horror film, Poltergeist? Poor little Carol Anne Freeling is watching TV when a ghost blasts from the TV screen, vanishes into the wall, and proceeds to wreak havoc on the family. I said that very line this morning when I looked at my potted basil plant sitting so forlornly on the back stoop…..they're here……only it wasn't a ghost but an insect pest attacking my herbs, which for a farmer, can be far scarier!
If you are USDA certified organic, you are first required to use preventative, cultural, and physical practices to control crop pests. Your pest control tool box should include many little hammers as opposed to one or two. This will reduce the risk of crop failure or serious loss by spreading the burden of control across several methods and decrease pest resistance by reducing exposure to only one or two management tactics.
Good hammers to keep in your tool box include: habitat management and release of beneficial organisms; good sanitation; diverse crop rotation; crop diversification; modified planting dates; lures, traps, and repellents; mulching with fully biodegradable materials; plastic mulch as long as it is removed from the field at the end of the season; mowing; livestock grazing; hand weeding and mechanical cultivation.
If those methods are not effective, however, a botanical, biological, or synthetic substance on the National List of Allowed and Prohibited Substances may be used if the conditions for their use are documented in your Organic System Plan (OSP).  If you would like to use a commercially available product that was not in your OSP, be sure to get the approval of your certifier BEFORE you use it.
Unfortunately, there are too many crop pests and not enough room to list them all here. Luckily, there are some great resources to help you identify and control pests.
CFSA's Organic Transition Handbook has an entire section devoted to pest management and includes resources for insect, weed, and disease identification and management. Included is North Carolina Cooperative Extension Service's Top Eight Reported Insect Pests on Carolina Organic Produce Farms that has descriptions, biological information, and control measures for squash bugs, flea beetles, aphids, stink bugs, cucumber beetles, colorado potato beetles, mexican bean beetles, and cabbage moths and Virginia Tech's Top Ten Reported Problem Weeds on Carolina Organic Produce Farms that has descriptions and identification information for pigweed, bermudagrass, Johnson grass, nutsedge, chickweed, crabgrass, thistle, nettle, lambsquarter, and sicklepod.
Cornell University's Resource Guide for Organic Insect and Disease Management includes crop management practices for nine common crop families, as well as material fact sheets for 17 commercially available pest control products.
CFSA's Organic Inputs Finder includes information on supplies in North and South Carolina that carry OMRI-approved and NOP compliant organic inputs and our Organic Pest Control Products Finder contains information regarding the effectiveness of various pest control products and local suppliers.
Interested in pursuing organic certification?  CFSA can help!  Check out our Organic Production and Certification Consulting and Conservation Activity Plan Consulting Services.
UPCOMING EVENTS
Upstate Farm Tour
THIS WEEKEND!
June 6&7 from 1-6 PM
With 23 incredible farms to choose from, including 7 new farm stops, the Upstate Farm Tour, happening from 1-6pm on Saturday and Sunday June 6-7, promises to be an amazing weekend! One of the biggest things we hear from farm tour visitors each year is that you would like some guidance in planning your route. With so much to choose from, including cute baby farm animals, pick your own berries, cuddly Alpaca's hayrides, gorgeous organic produce, humanely raised livestock, local dairies, artisan creameries, a winery, a mushroom farm, and three teaching farms you might want to plan your route ahead of time! Well, this year we're making it easy for you to plan out your perfect afternoon visiting these wonderful farms. We've put together some sample clusters of farms that are all within about 20-30 minutes driving distance of each other. These clusters will help you minimize your driving time and maximize your time visiting with the farmers, the animals, and sampling tasty farm-fresh foods.
Choose your own farm tour adventure! 
Want to volunteer and snag a free CFSA t-shirt and a free ticket?! Visit our website to sign up! 
PROUDLY PRESENTED BY / PROUDLY SPONSORED BY
  
Good Agricultural Practices Workshop: Wake County
Navigating the USDA GAP Audit
Date:    Tuesday, June 16, 2015
Time:    9:00 am – 4:00 pm
Location:
Wake County Center
4001-E Carya Drive, Raleigh, NC 27610
(919) 250-1094
Cooperative Extension Contact: Carol Mitchell (csmitchell@wakegov.com)
Cost:   $20/person (lunch will be provided)
All major credit cards accepted.  If paying by check, make check payable to Carolina Farm Stewardship Association. Mail registration form and payment to: CFSA, P.O. Box 448, Pittsboro, NC 27312.
North Carolina State University and North Carolina Cooperative Extension are partnering with the Center for Environmental Farming Systems/North Carolina Growing Together Project (CEFS/NCGT) and Carolina Farm Stewardship Association (CFSA) to deliver workshops across the state with the aim of providing farmers with the tools to reduce food safety risks and meet market requirements.
The Navigating the USDA GAP Audit workshop, will combine classroom and on-farm instruction to provide producers with the tools needed to identify potential food safety concerns, as well as strategies to minimize potential contamination. Available resources, including cost-share assistance (available through 7/31/15) and consulting services, will be provided to growers to assist with the implementation of an effective on-farm food safety program.
Participants will receive a Certificate of Attendance to fulfill training requirements for USDA GAP/GHP certification.
REGISTER NOW:
Online: https://carolinafarmstewards.z2systems.com/eventReg.jsp?event=183&
Using our Wake County GAPs Workshop Registration Form.
Over the Phone: 919-542-2402
Portions of the workshop will take place outside. Please wear comfortable walking shoes, bring a water bottle, and appropriate weather gear. The workshop will take place rain or shine.
If you have additional questions regarding the workshop, please contact Trish Tripp, CFSA Local Produce Safety Consultant at 336-458-6980 or email at trish@artisanfoodsolutions.com.
Support for this program provided by NC Growing Together,678 a Center for Environmental Farming Systems initiative funded by the United States Department of Agriculture, National Institute of Food and Agriculture, grant #2013-68004-20363.       
 http://www.ncgrowingtogether.org
THERE ARE AWESOME EVENTS HAPPENING ALL ACROSS THE CAROLINAS!  CHECK THEM OUT IN THE EVENTS CALENDAR!  
______________________________________________________
Connect with CFSA
Join us on Facebook (http://www.facebook.com/carolinafarmstewards) and Twitter (http://twitter.com/carolinafarm) or contribute to our blog (https://www.carolinafarmstewards.org/blog)!
To join the Carolina Farm Stewardship Association, visit: https://www.carolinafarmstewards.org/join/