Community Food Strategies
Community Food Strategies is a multi-organizational team of food system experts that provides leadership and technical support to communities interested in food council development across the Carolinas. Local food councils are cross-sector, community organizations that help promote more resilient food systems. They identify and strengthen connections between food, health, natural resource protection, economic development, and production agriculture. Using this cross-sector approach, food councils solve broad food system issues and give communities more control over the food they consume.
Recognizing the power of collective impact, the Center For Environmental Farming Systems took a lead role in initiating this collaborative approach to strengthening the capacity of local communities to define and develop their own local food system. In addition to CEFS, Community Food Strategies partners include the Carolina Farm Stewardship Association, Appalachian Sustainable Agriculture Project, Care Share Health Alliance, and Carolina Common Enterprise. The project team focuses on council development and peer-to-peer communication to strengthen partnerships, cultivate leaders, deepen relationships, expand networks, and align results.
CFSA's Community Mobilizer, Jared Cates, is a team member of the Community Food Strategies initiative. For more information, or to learn more about how CFSA and Community Food Strategies can support efforts in your community, please contact Jared Cates at (919) 695-3391 or jared@.
If your food council or community group is interested in engaging in strategic policy action around food, health and farming issues, please fill out the brief application form on the Community Food Strategies website.
A Powerful New Tool for Local Food Leaders
Community Food Strategies is releasing a new online tool that we have been developing to support food councils in their work. The Strategic Advocacy Toolkit for Food Councils is a new part of our website that offers a systematic approach to engaging in relationship building and policy change. It is our belief that effective strategy is essential for successful advocacy. Advocacy that follows a strategic plan increases the likelihood that your work will make a lasting, positive impact on your community. This toolkit walks you through the steps your food council should take to make meaningful relationships with policy makers in your community and to strategically affect lasting policy change.
Currently, there is direct assistance available for a limited number of food councils that wanting to use this toolkit to:
Engage in strategic networking with decision-makers and food system stakeholders,

Draft and prioritize a policy platform,

Give input on local and regional planning processes, and

Create and implement strategic advocacy plans
Some examples include:
Advocating for the inclusion of food system related language to comprehensive plan updates,

Advocating for the establishment of a Agricultural Development and Farm Preservation Fund,

Advocating for changes to municipal rules around commercial crop production
For more information about these services, please email team member Jared Cates at jared@ or fill out our application form.
Funded by:

A Network of Local Food Councils Across the Carolinas
A network of food councils is developing across the Carolinas with the support of community organizations, engaged citizens, local government, foundations and the Community Food Strategies team.
North Carolina has approximately 35 active local food councils and networks, with many others emerging. The Community Food Strategies team works closely with the Local Food Council of North Carolina (LFCNC), which represents various statewide organizations, agencies, and groups and serves as the statewide food council. The group aims to foster coordinated support for NC local food systems, as well facilitate formal and informal food-related policy discussions. LFCNC and the broader network of councils stay engaged and connected through local and regional events, social media, and regular conference calls. Visit the Community Food Strategies website for more information on LFCNC and food councils in NC.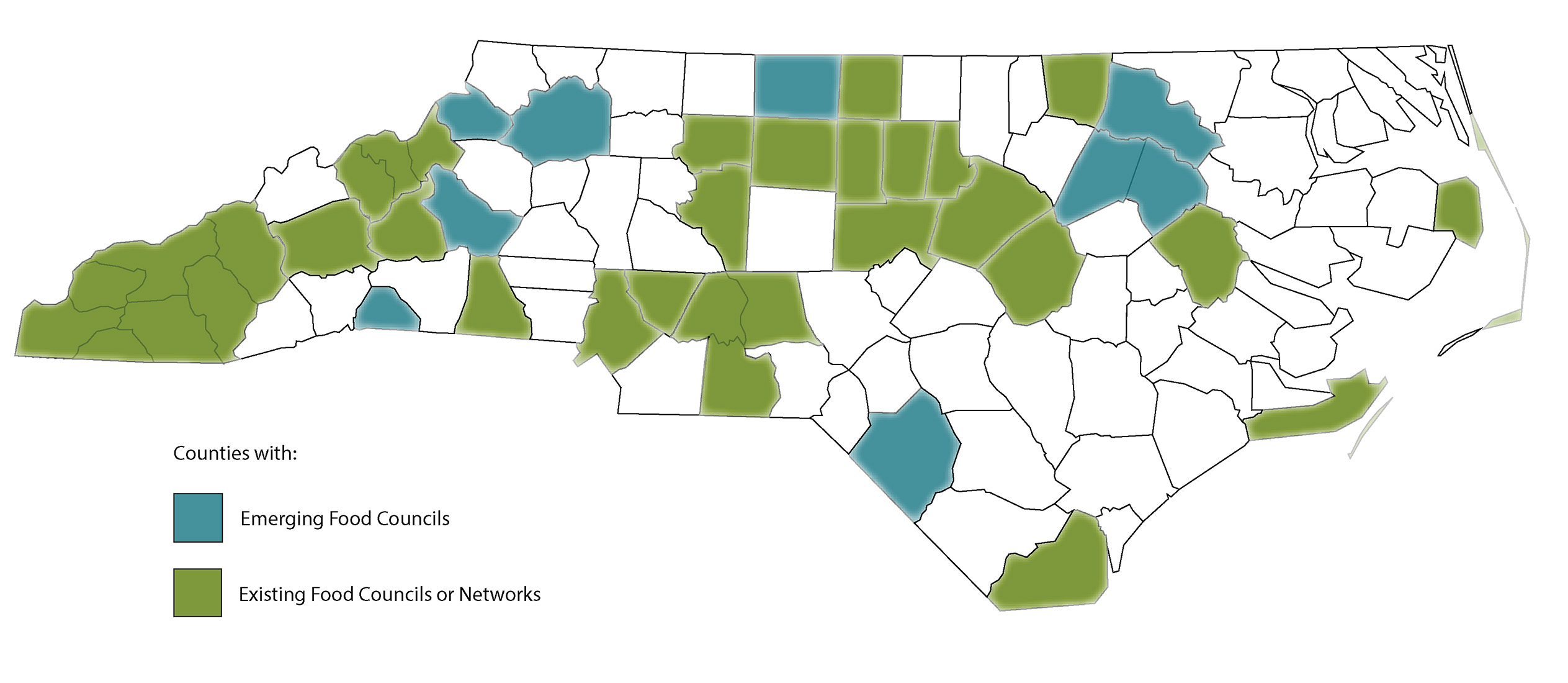 South Carolina has four active regional food networks that serve multi-county regions – the Catawba Farm and Food Coalition, the Midlands Food Alliance, the Midlands Local Food Collaborative and the Upstate Food Working Group. There is also the South Carolina State Food Policy Council, which exists to advance the consumption and production of healthy foods throughout the entire state through education and strategic policy planning. Their 2016 Annual Gathering focused on 'The Future of Food Safety.'
Who Makes Up a Food Council?
Councils should be intentionally cross-sector with representation from six sectors that make up the whole measures, or values, for a community-based food system: 1) Thriving local economies, 2) Vibrant farms and gardens, 3) Justice and fairness, 4) Strong communities/supportive policy, 5) Resilient ecosystems, and 6) Healthy people. Councils often include representation or organized communication with the following groups: County Commissioners, planning departments, public schools (ag teachers, nutrition directors, parents, students), Cooperative Extension, Soil and Water Districts, public health and/or hospital centers, local banks, food pantries, faith communities, community colleges or universities, economic development staff, local restaurants and business owners.
Potential Food Council Actions
Each food council is unique and their work depends on the resources and interests of the community they serve. Examples of actions food councils may take include:
Building a network of community members interested in their local food system and cultivating relationships between cross-sector organizations, agencies, and communities
Assessing successes and opportunities within the existing food system
Educating consumers, public officials, and community leaders
Advocating for supportive agriculture and food policies
For more information on food councils and the Community Food Strategies initiative, visit www.communityfoodstrategies.com or email CFSA Community Mobilizer Jared Cates at jared@.