In the past, CFSA funded and launched small-scale start-up projects that built local food infrastructure and increased access to sustainable, organic foods, including Carolina Ground and Cobblestone Farmers Markets.  Now, we provide Food Systems Consulting Services to develop and build food systems businesses across the Carolinas.
Connecting Farmer, Miller, Baker and More
With funding from the Tobacco Trust Fund Commission and Santa Fe Natural Tobacco Company, CFSA launched Carolina Ground, a collaboration between organic grain growers and artisan bakeries, to operate a small-scale grain milling and storage operation.  Carolina Ground supplies bakeries with high-quality, stone-ground, Carolina-grown organic bread flour. Carolina Ground became the state's first LC3 in 2010 and works with 20 farms and 20 bakeries to support locally sourced organic hard wheat.  The mill began officially launched in spring of 2012 and is in full operation.
Winston-Salem's All-Local, Producer's-Only Farmers Market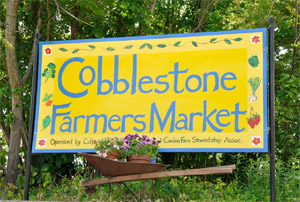 In 2011, CFSA launched the Cultivate Piedmont program – with funding from the Winston-Salem Foundation – to promote sustainable food systems in the Piedmont Triad by operating Cobblestone Farmers Markets, sustainable growers-only farmers market serving Winston-Salem via two locations.  Cultivate Piedmont also coordinates community initiatives and outreach, including food and cooking classes, samplings/demonstrations, and outreach to schools.
Protecting Southeastern Heirloom Varieties
In 2003, CFSA partnered with the Seed Saver's Exchange to create the Saving our Seed project to support an organic seed bank and preserve the biodiversity of heirloom southeastern vegetables, herbs, grains, and flowers. The project has sustained the supply of over 150 southeastern heirlooms seed varieties in the last three years.
Our First Success Story
With funding from the Tobacco Trust Fund Commission, CFSA supported an initiative – now Eastern Carolina Organics – to establish strong farm-to-table connections and help market Carolina organic produce. Today, Eastern Carolina Organics is an independent, self-supporting, farmer-owned LLC.